Instant Future offers both quick jumps and deep dives into futurist prediction. We look with open minds, informed by critical thinking, to refine the lens of prediction, sorting through new research and media reports so you don't have to. We look for the most insightful voices in the field of prediction, to cite and to interview. We combine the insights of professional futurists and forward-thinkers of all kinds, to give you an advanced look at what's coming.
We're offering a brisk trip to the edge the future itself…an edge that's always edging away.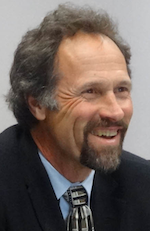 Brock Hinzmann has spent over 35 years as a futures researcher and "sensemaker" at SRI International (The Stanford Research Institute) and SRI spinoff consulting companies in a wide range of technology and business areas, including advanced materials, energy, manufacturing technologies, nanotechnology, sensors, and robotics. He has consulted industrial companies and government agencies to implement programs in horizon scanning and foresight, the creation of futures scenarios, opportunity discovery workshops, and the creation of technology road maps. He co-founded the Society of Manufacturing Engineers' Rapid Prototyping Association (today, the SME Rapid Technologies & Additive Manufacturing Community) and, in 1996, he wrote "The Personal Factory" as a forecast of the 3-D printing industry. He contributed to the US National Intelligence Council's Global Trends 2025 and Global Trends 2030 forecasting reports.
---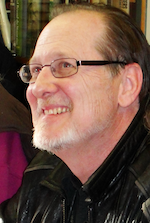 John Shirley is an American writer of science fiction, speculative fiction, techno-thrillers, and non-fiction. Along with William Gibson and others he helped invent the cyberpunk genre of science fiction in works that fused literature with hardboiled crime writing and futurist fiction. Shirley's cyberpunk/detective/climate Fiction novel Stormland was published by Blackstone Books in 2021. His new science-fiction technothriller, Suborbital 7 will be out from Titan Books in June 2023. He frequently writes and speaks on subjects concerning the future. Shirley has written novels, short stories, TV scripts and screenplays—including The Crow—and has published over eighty books including ten short-story collections as well as one non-fiction book: Gurdjieff: An Introduction to His Life and Ideas. His articles have appeared in Wired Magazine, Utne Reader, and the Los Angeles Express. As a musician, Shirley has fronted his own bands and written lyrics for Blue Öyster Cult and others. John Shirley's novels Stormland and Suborbital 7  can be ordered at https://bookshop.org/.
Hope icons created by Freepik – Flaticon